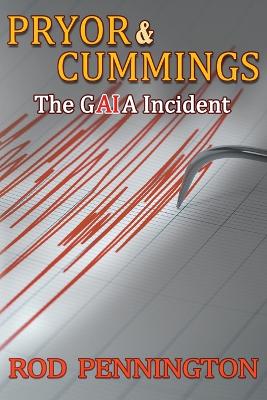 Pryor & Cummings The GAIA Incident is a really well written techno thriller locked room mystery by Rod Pennington. Released 24th May 2022, it's 266 pages and is available in hardcover, paperback, and ebook formats. It's worth noting that the ebook format has a handy interactive table of contents as well as interactive links and references throughout. I've really become enamored of ebooks with interactive formats lately. For Kindle Unlimited subscribers, this book is currently included in the KU subscription library to borrow and read for free.
The murder of a research assistant in a highly secure research facility draws Detective Pryor off a suspension back to active duty, paired with a young detective Cummings. The interplay and dialogue between the two added a lot to the read. The addition of interrelationships between Pryor's family and the facility in which the murder took place as well as the arrival of the FBI and inter-agency rivalry add some interest and complexity.

Aside from having a good grasp of plotting and characterization, it's intricately and cleverly constructed. I love locked room "no suspect" mysteries and this is a good one. There are technical aspects in the story, but nothing which would render it problematic to laymen. It's not necessary to have a grasp of geophysics to understand what's going on at all. I was nonplussed by some of the author's descriptions of "stereotypical" science geeks, which were unnecessarily cliché and condescending.

Four stars. Well written and engaging. Some rough language and situations but nothing really egregious.
Disclosure: I received an ARC at no cost from the author/publisher for review purposes.